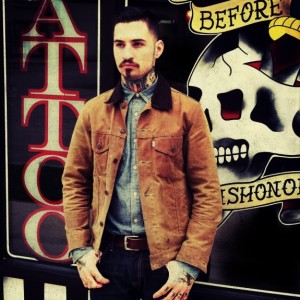 I started tattooing in 2007. I first became interested in tattoos through local hardcore and punk rock shows. Seeing tattoos on band members and record covers by tattooers. One cover that I remember specifically is the Until The End cover art by Grez.
I started going to shows as a freshman in High School about 1996. I was attracted to the rebelliousness of the music and culture, and tattoos were definitely a part of that.
I apprenticed at Five Point Studios in Des Moines, Iowa under Budha. I would describe my style as Classic Cool. I take traditional American tattoo imagery and put my own spin on it. I hope that through hard work I will be one of the tattooers that helps carry on a great tradition. I get my inspiration from looking at tattoo flash and photographs from the early 1900's to the 1960's.
I also like reading about the history in books such as New York City Tattooing: The Oral History of the Urban Art, Bad Boys and Tough Tattoos, and Sailor Jerry Collins: American Tattoo Master.